Aziatic & The New Concepts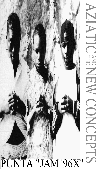 AZIATIC and the New Concepts have created a unique style ofpunta-rock, a style that is energetic, danceable, and gives you a sense of being at a live performance. They refer to it as Punta 2,000. There are three members: Rafael Martinez age 18 aka D.A., Damian Lambey age 18 aka Big "D", and AZIATIC age 16. The new album "JAM '96X", available on CD's and tapes, is set to go on sale the fist week of July 1996.

Huya | Goubana | Chikkittikkolla | Numari | Fedu
JAM'96X | I'm gonna get you | Chikkittikkolla (Remix) | JAM'96X (Remix)



Chico Ramos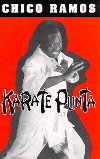 This album was released in late 1995.

Sound City Twiters | Karate Punta | Baby Shower
Digabeineigi | Papa Loay | Busieneiginu






Garifuna Kids
A member of this New York based punta group is Belizean. In 1995, hits such as Magunnubon and Baila Baila took Belize by storm. They visited Belize in November 1995 and performed in Belize City and Dangriga.
Album #1
Introduction | Baila Baila | Papeera | Mientras Pueda | Tuma Garadu
Magunnubon | Dreaming About Girls | Suna | Sara, Sara
Album #2
America Baila | Curauno Waruwaite | No Llores Mi Amor | Gudemein | Nalagante
Yurumain | Niyabina Adaguimein | Why Put Us Down? | Sagu Tarijinina | Maredebatina
Mohobob Flores
Mohobob Flores, singer/songwriter/musician was born Garinagu in Dangriga, Belize. Mohobob has recorded 4 albums: Roots & Culture, Ital Food, Heron and Marco Sanchez Diaz.

Songs such as Teena Nibugeiya, Thanksgiving, Roots & Culture, Yamaddi, Gurasu, Sticky Starchy, Heron, Hagou Nugushu Medley, Lauru Beiyah, Musical Injection, My Culture, Get Together, Dondo, Marcus Sanchez Diaz, Daradu, Wayaru, and We Will return have give Mohobob the respect he deserves as a punta rock artist.

Mohobob has recorded two of his albums with Wild Adventure Records in Long Beach, California, which is a Belizean enterprise owned by Bull Cayetano (310) 435-3901.



Travesia
Based in the Bronx, New York and made up of garifuna kids from Belize, Honduras and Guatemala. Travesia band is releasing their debut album in the month of January 1997. Mr. J. King is the owner/manager of the band former member of The Sea Boys. The band members are:

Vocalists: Nino(child), Oscar, Wilmer, and Frankie
Keyboard: Dyther Palacios
Keyboard: Joseph Suazo "Estilo"
Bass: Juan Arzu "Juancho"
Drummer: McLean Castillo "Clincho"
Congas: Angel "Boriqua"

Songs on the album include:
Miligui (milk) | Merengue-Punta | Aganbabana Hania (Listen to me)Chupacabras (The Goat-sucker)| Miguira von (Don't leave her) calypso.

Travesia Band got started in November of 1995 due to the popularity of Garifuna Punta Rock not only in Belize, but also in East Coast and West Coast United States, Honduras and Guatemala. Many of the band members started without much knowledge of playing instruments, but because of the patience and dedication of Mr. J. King, the band got off the ground. They don't drink, smoke, or do drugs which are part of the mission of Travesia Band. Their music genre encompasses not only the traditional Punta Rock, but merengue, salsa, calypso, blues, reggae, and boleros.