Yasser Musa is a self-taught artist who works in a multi-media format. Born and schooled until high school in Belize City, Yasser went on to complete a Bachelor's degree in economics and a Master's degree in art history at Louisiana State University. He is a poet who has been published two times and is in the process of a new publication. Currently he teaches art and literature at St. John's College High School in Belize City.

Yasser has exhibited his art work several times in Belize and in 1995 showed his Clothes Line Project at the Contemporary Arts Center in New Orleans. He makes paintings, site- specific earth works, installations, photography, sculptures, collages, assemblages, text and book art (his inventory includes over 800 pieces of art work). He is editor of a cultural supplement inTRANSIT which appears monthly in the Belize Times newspaper.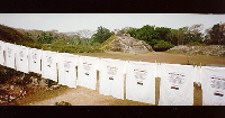 In a ten month span, Yasser went with a team of friends and installed a white T-shirt clothesline in ten different geographic locations throughout the diverse topography of Belize. The clothesline represents to Yasser, a metaphor for Belizean culture, where it is a symbol of low-technology and an interruption into the landscape of Belize that citizens rarely get a change to view or experience. There was a complete documentation of this project and Yasser has a 15 minute film to show inside the exhibition.


ABCDEFG
Origins of De-Civilization
Seven

Located in downtown Belize City, the Image Factory is a contemporary art space dedicated to exhibiting the multi-disciplinary nature of art today. A non-profit foundation, the factory facilitates the study, promotion, research, and documentation of Belizean art.

91 North Front Street · P.O Box 571 · Belize City, Belize · Ph: +(501) 2-34151
YASSER MUSA · Director