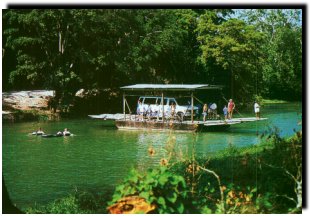 The Cayo District is Belize's western most district. It borders Guatemala and contains the official western border crossing into Guatemala at Santa Elena. The terrain is hilly to mountainous with rocky and limestone plateaus. Cayo is home to the Maya Mountains - an offshoot of the great mountain range which stretches from the Cascades to the Andes. Because of its terrain, Cayo tends to be prone to flooding during the rainy seasons.

Cayo is populated by a wide variety of ethnic groups. The towns closer to the border are mostly spanish speaking. The district is filled however with numerous towns and villages which vary from Mayan Indian to Creole. Due to a hurricane in 1961 the Government of Belize decided to move the country's capital to a new city called Belmopan in the centre of the Cayo District.

Cayo is also home to the spectacular Mountain Pine Ridge nature reserve as well as the Maya Ruins of Xunantunich and Caracol.






Blancaneaux Lodge
Cahal Pech Tavern
Chaa Creek Cottages
San Ignacio Resort Hotel


Spanish Lookout - Mennonite Settlement
Visit Melchor, Guatemala




San Ignacio Town is a two hour bus ride from Belize City. Buses leave and return on the hour. If you wish to make the trip on your own in a rental vehicle, feel free as the directions are straight forward.

San Ignacio also has an airstrip. However, there are no scheduled flights, only charters. The is also an airstrip at Central Farm. As before, there are no scheduled flights.