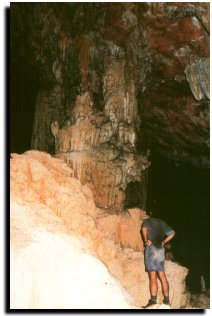 Belmopan is the captial city of Belize. It is located in the middle of the Cayo district; about a hour's drive from the old captial of Belize City. Being an inland city, its temperatures are quite high during the day but much cooler at night.

Belmopan is the center of government activity. In its centre are the National Assembly (or Parliament) Building and the majority of central government offices. There is not much private commercial activity here.

After a hurricane Hattie all but destroyed Belize City in 1961, the government of Belize built Belmopan, which was opened 10 years later in 1971, and moved its central offices here for security and central access.

The residents of Belmopan are mostly government employees and their families. They are probably the most widely integrated, since they originate from all other areas of the country.

From Belmopan one can access just about all the activities in the Cayo, Stann Creek and inland Belize districts. Closer to the city are such sites as the Blue Hole are Guanacaste Park. Most of the activities in these areas are outdoors such as swimming, hiking and caving.




Belmopan Convention Hotel
Jaguar Paw Jungle Resort
Warrie Head Lodge


Jazzy J Club
Yoli's Bar & Lounge


Belize Archives
Cave Exploring
Heris Nature Walk & Trails
Guanacaste Park




Belmopan is a quick one hour ride from Belize City. Although there is an airstrip just outside Belmopan, it is usually more economical to catch the bus. Buses leave and return each hour.