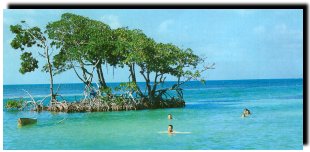 Caye Caulker is one of Belize's many islands along the Barrier Reef. It is about 19 miles north east of Belize City. It is basically a sandy limestone coral island. Caye Caulker is divided into two parts by a small channel. The north end is mostly mangrove and is not developed. The south houses the town. The entire island is only five miles long.

Less developed than San Pedro, Caye Caulker is a care free relaxation spot. It is still primarily a fishing village whose inhabitants are of Mestizo-Spanish descent. Most of the families that live here have been fishing these waters for many years.

Caye Caulker is close to the Barrier Reef and has day and night reef and wall diving trips available. Bicycles and golf carts are the main mode of transportation and are available for rental.




M&N Hotel
Martinez Hotel
Morgan's Inn
Rainbow Hotel
Vega Inn & Gardens


Oceanview Bar
Popeye's Bar
Sobre Las Olas Bar
Tropical Paradise Restaurant






You can get to Caye Caulker by plane or by boat. Tropic Air, Island Air, and Maya Airlines make hourly scheduled trip to Caye Caulker from either the Municipal Airstrip in Belize City or from the Phillip Goldson International Airport. The average cost of a roundtrip ticket is around US$120 and the trip takes about 15 minutes.

There are several boats which make daily trips to and from Caye Caulker. Boats usually leave from the historic Swing Bridge in Belize City or from the pier in front of the Bliss Auditorium. The trip takes about 45 minutes usually cost about US$15 roundtrip.