Ambergris Caye is the largest and most northern of Belize's islands. It is twenty five miles long and parallels Belize's barrier reef. Ambergris Caye, once claimed by Mexico, is separated from Mexico only by a narrow channel. Ambergris Caye is located east of the Corozal District. Its main town of San Pedro is about 36 miles from Belize City. Like Caye Caulker, Ambergris is a limestone coral island. It has cool tropical breezes and is literally a stones throw from the Barrier Reef in some places.

During the Mayan period, Ambergris Caye was a trading post. Ruins have been excavated throughout the island, including the Marco Gonzales site, the Basil Jones site, and in San Pedro town.

Ambergris is the most commercially developed of the islands. It has quite a few luxurious hotels and an avid night life. There is also considerable real estate interest on Ambergris as most of the northern end of the island is not yet developed. Although there is a small fishing industry, the main source of income of this once buccaneering and whaling caye is tourism.

Most of the 2000+ residents of Ambergris are of Mestizo-Spanish descent. Spanish is mostly spoken although everyone does speak English. Like their sister island of Caye Caulker they are from fishing families. The island does employ a number of people from the other districts, mainly Belize City.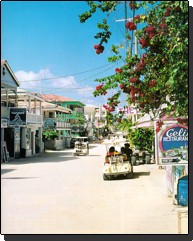 The main town on Ambergris caye is San Pedro Town. It is a mile or so long and encompasses only a few street blocks. Most of the houses are wooden with zinc roofed houses. San Pedro town is the heart of Ambergris Caye and offers a wide range of restuarants, bars, souvenir shops, and banks. Since the airstrip is also located in town, most resorts and hotels are only a hop, skip & a jump away.

The main means of transportation are golf carts however bicycles, scooters, and some cars and vans are also available. The streets are sandy and unpaved so be sure to leave your fancy clothes and high heel shoes at home. There are no traffic lights, no freeways or highways, and no highrise buildings.

The atmosphere on San Pedro is very casual. The dress of the day is usually shorts and sandals (if you can't handle being barefoot).




San Pedro Businesses




Big Daddy's Nite Club
Elvi's Kitchen
Little Italy
Tarzan's Nite Club
The Hideaway Sports Lodge Restaurant


Ambergris Museum & Cultural Center - Exhibits on the history of the island are on display. Trace the development of Ambergris Caye from its days as an ancient Maya trading center a leading tourist destination.
Bird Watching - Be sure not to miss the egrets, great herons and many other tropical birds. Guided trips to Bird Caye can be arranged.
Cruises - Many cruises are available, whether sightseeing, sunset or moonlight.
Diving & Snorkeling - Numerous charter dive boats and underwater guides are available to take you to many spots on the Barrier Reef. Arrangements can be made to visit any one of the atoll - Turneffe Island, Glover's Reef, or Lighthouse Reef where you can dive the famous Blue Hole. For all your scuba diving or snorkeling needs, check out Fantasea Scuba School & Watersports Center or visit Belize Extravaganza.
Fishing - All types of fishing trip available - deep sea, river, flyrod, night, etc. Fish for snapper, snook, grouper, marlin, tarpon, and this list goes on and on...
Golf carts & Bicyles - Although the caye is small and most everything is within walking distance, a bicycle or a golf cart is definitely a plus.
Hol Chan Marine Reserve - This underwater park is a must, especially if you are a diver.
Jet Skis - Have the need for speed? Then hop aboard a jet ski. 1/2 hour and 1 hour rentals are available.
Sailing - Sailboats, windsurfs, and even kayaks are available for rent. For those of you who aren't afraid of heights, parasailing is also available
Shark-Ray Alley - Located about 1 mile south of the Hol Chan Reserve, this area gives you the perfect opportunity to get up front and personal with stingrays and nurse sharks. Diving and snorkeling must be arranged with a guide.
Tours - Many in land tours are available. Arrangments can be made to visit the Maya Ruin sites of Altun Ha in the Cayo District or Lamanai in the Orange Walk District. If you would like to check out the wildlife, make arrangements to visit the Belize Zoo, the Baboon Sanctuary or the Jaguar Reserve.




You can get to Ambergris Caye by plane or by boat.

Tropic Air, Island Air, and Maya Airlines make hourly scheduled trips to San Pedro from either the Municipal Airstrip in Belize City or from the Phillip Goldson International Airport. Flights usually run between 6am and about 5:30pm. The average cost of a roundtrip ticket is around US$120 and the trip takes about 20 minutes.

There are several boats which make daily trips to and from Ambergris Caye. Boats usually leave from the historic Swing Bridge in Belize City or from the pier in front of the Bliss Auditorium. The trip takes between 1 - 1 1/2 hours depending on the boat and usually cost about US$25 roundtrip. Be sure to look for Triple J, Thunderbolt or Rainbow Runner.