The second of the northern districts, Orange Walk lies next to both Mexico and Guatemala; although it does not have an official border crossing into either. South is the district of Cayo. East is Belize. The terrain in Orange Walk is more of a forest savanah. A lot of its land, though, has been developed for the production of sugar cane similar to that of Corozal.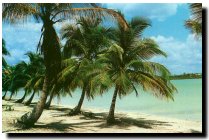 The Orange Walk district is home to the only operational sugar refinery in Belize. The Tower Hill factory processes the sugar cane which is produced in Orange Walk as well as in neighboring Corozal.

Although Orange Walk is mostly Spanish speaking, it is home to a number of Mennonite villages such as Blue Creek and Shipyard. The spanish speaking residents are decendents of the same Maya and Mestizo in the Corozal district.

Orange Walk caters for more outdoor activities. A large portion of Orange Walk's rain forest is protected reserve under the Rio Bravo Conservation Project. Orange Walk also has several Maya ruins including La Milpa and Lamanai.

Major Town: Orange Walk
Land Area: 1830 Sq. Miles




Chan Chich Lodge - Built in the heart of a Maya Plaza and surrounded by more than 229,000 acres of pristine tropical forest in Northeastern Belize, Chan Chich Lodge is home to a vast abundance of wildlife, numerous forest habitats and extensive Maya history.
Lamanai Outpost Lodge - Indian Church
Mi Amor
New River Park Ltd.


Golden Star Chinese Restaurant
J J Restaurant
Mi Amor Disco
New River Park Ltd.
The Diner


Blue Creek (Mennonite Community)
Chetumal, Mexico
Godoy's Orchid Garden
La Milpa Maya Ruin
Rio Bravo Research Station




Orange Walk Town is only 1 1/2 hours from Belize City by bus. Buses leave and return on the hour. It is a very straight forward trip so don't be afraid to rent a vehicle!